apartment Soukenicka 44 is located in a remodeled attic nestled beneath a partially reconstructed renaissance roof over 500 years old, which contributes to its unique interior. It also provides magnificent views of the town.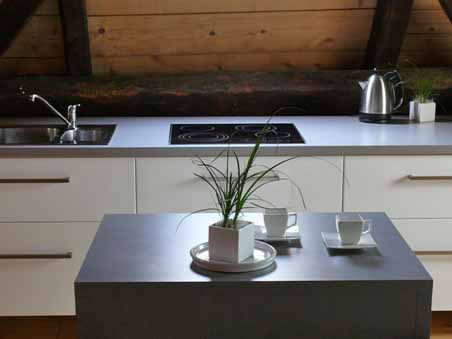 This attic space has been converted into an two-story apartment of over 90m² accommodating 5 people or less. In order to preserve its architectural authenticity, no walls were built within the apartment, which is entirely open with the exception of a separated bathroom. A bedroom with sleeping arrangements for 3 people is located on a loft. For 2 people a marriage bed is located in the living room.
---
---

The kitchen is equipped with modern amenities, including a glass ceramic hot plate with sensor-based operation, a microwave oven, a refrigerator with a freezer, a kettle, and cooking utensils. At the table is place for 6 persons.

---

---

The living room is connected to the kitchen and is equipped with a sofa, a desk, a double-bed, a TV set and a stereo. The ladder leading to the loft is original to the building.

---

---

The bedroom is laid on beams. It is equipped with three low beds with grids.

---

The bathroom and toilet have wooden flooring, walls and ceilings. It is equipped with a shower, towels, washing machine, a towel-dryer and a hair-dryer.